According to one of my favourite gin brands Sipsmith, the Dirty Martini is a beautiful drink when done right. The enthusiasts adore its savoury, saline attributes.
The Gin
Choosing the right gin brand is very important when making the perfect Martini. I personally prefer to use Sipsmith London Dry Gin for couple of reasons. Firstly, because I want to achieve that rich floral taste of summer meadow notes. And secondly, the mellow rounded juniper and zesty, citrus freshness, blends nicely and it makes the flavours just shire through.
The Vermouth
Perhaps the most important factor of all is the ratio of spirit to dry (white) vermouth. Order your Martini "Wet," and you'll receive a drink that matches equal parts vermouth to spirit. Opt for a "Dry" Martini, and you'll sample something closer to the serve Winston Churchill enjoyed. (For the former British prime minister, the perfect Martini famously involved pouring a glass of ice cold gin while "glancing at a bottle of vermouth" across the room.)
In my Dirty Martini recipe I use Carpano Blanco vermouth. Caprano is aromatic and floral vermouth with bright citrus notes. The residual sugar in its bianco-style makes it a robust match for olive brine in a Dirty Martini.
The Brine
What's the dirty little secret of a Dirty Martini? Well, brine, of course! But the worst thing is adding a low-quality olive brine to your Martini. Do not use the liquid from an olive jar. It will ruin your cocktail. Boscoli and Dirty Sue are the two olive juice brands that I would recommend you use.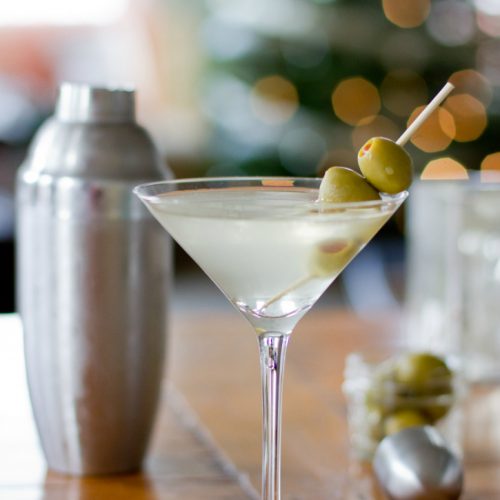 Dirty Martini
If you want to achieve that "James Bond" taste, don't forget: "Shaken, not stirred."
Ingredients
150

ml

Sipsmith® London Dry Gin

25

ml

Caprano Blanco Dry Vermouth

15

ml

Boscoli Olive Juice

(Brine)

4

pcs

Green Olives

(Pitted)
Instructions
Put two martini glasses in the fridge to chill for 10-15 mins

In a cocktail shaker, combine the gin, the dry vermouth, the brine and ice

Shake well and poor into the martini glasses

Garnish with olives on stick